Welcome to Halong Bay
Sprawling Halong City (also known as Bai Chay) is the bay's main gateway, but its high-rises are a disappointing doorstep to this site. Most visitors opt for cruise tours that include sleeping on board within the bay, while a growing number are deciding to eschew the main bay completely, heading straight for Cat Ba Island from where trips to less-visited but equally alluring Lan Ha Bay are easily set up.
All visitors must purchase entry tickets for the national park (40,000d) and there are also separate admission tickets for attractions in the bay, such as caves and fishing villages (30,000d to 50,000d).
1.1.2 Caves
Halong Bay's islands are peppered with caves, many now illuminated with technicolour lighting effects. Sadly, litter and trinket-touting vendors are also part of the experience.
Which of the caves you'll visit depends on factors including the weather and the number of other boats in the vicinity.
1.1.3 Islands & Islets
Cat Ba Island is the most developed of Halong Bay's islands with Cat Ba Town the launching pad for the gorgeous Lan Ha Bay region. Some Halong Bay cruise operators include Cat Ba and Lan Ha Bay on their itineraries.
1.2. Activities
Most cruises and day-tripper boats include at least a couple of caves, an island stop-off and a visit to one of Halong Bay's floating villages. The villagers here farm fish, which are caught offshore and fattened up in netted enclosures.
1.2.1 Don't Miss: Cruising the Karsts
The most popular way to experience Halong Bay's karst scenery is on a cruise. Fortunately everyone, their grandmother and their friendly family dog wants to sell you a Halong Bay tour in Hanoi. Unfortunately, shoddy operators abound.
Every year we receive complaints from travellers about poor service, bad food and rats running around boats on ultra-budget cruises, and more expensive trips where itinerary expectations didn't meet what was delivered.
Tours sold out of Hanoi start from a rock-bottom US$60 per person for a dodgy day trip, and can rise to around US$220 for two nights. For around US$110 to US$130, you should get a worthwhile overnight cruise.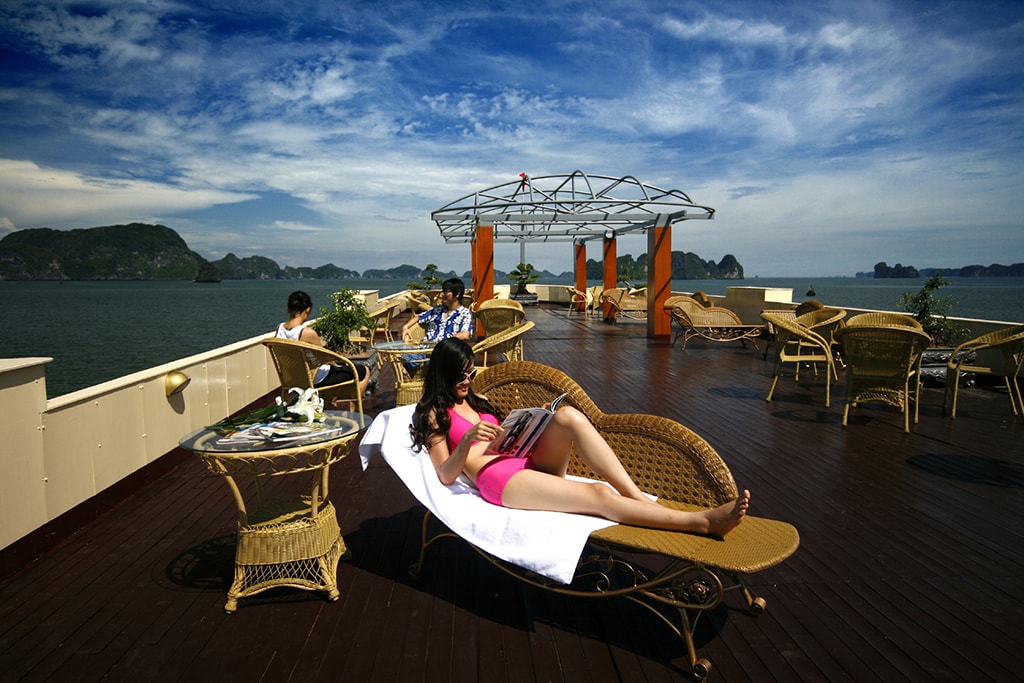 At the other end of the scale, cruising the karsts aboard a luxury Chinese-style junk is hard to beat. But be aware that paying top dollar doesn't necessarily compute into heading away from the crowds.
If you want to experience less-crowded karst views, consider cruises focused on Lan Ha Bay, near Cat Ba Island.
Most cruise-tours include return transport from Hanoi, Halong Bay entrance fees, and meals. A decent overnight tour usually includes kayaking. Drinks and even water are extra, payable in cash only.
This is one destination where it definitely pays to do your homework beforehand. Here are some suggestions to help make Halong Bay memorable for the right, rather than wrong, reasons:
It can be a false economy to sign up for an ultra-cheapie tour. Spend a little more and enjoy the experience a whole lot more.
At the very least, check basic onboard safety standards. Life jackets should be provided. If kayaking is included, make sure it's guided. Currents close to the karst formations are surprisingly strong. Accidents can occur when visitors are left to paddle off by themselves. There is no nearby access to pharmacies or internet.
Realise that most Halong Bay cruises follow a strict itinerary, with stops at caves often at the same time as other boats. On an overnight trip there's simply not the time to stray far from Halong City.
Make sure you know what you're paying for to avoid disappointment later. Many cruises (including luxury options) are marketed as 'two-day' trips but are actually overnight tours, some involving less than 24 hours on board.
Ascertain in advance what the tour company's refund policy is if the cruise is cancelled due to bad weather.
1.2.2 Kayaking
A kayak among the karsts is an option on most Halong Bay tours. Count on about an hour's paddling, often including negotiating your way through karst grottoes and around lagoons, or to a floating village in the bay.
The most popular and best way to experience Halong Bay is staying overnight on a boat. Cat Ba Island has the best terra firma accommodation options, and there's some accommodation on the surrounding islands. Otherwise Halong City is a cheap land option, if you don't mind the grey cityscape of karaoke and casinos, or want budget stays.
1.4. Eating
Most people will eat onboard a cruise, at the varied restaurants or market stalls of Cat Ba Island, or opt for the cheap and adequate joints of Halong City.
2.1 Etiquette
Meals When dining with Vietnamese people, it's customary for the most senior diner to pay for everyone. It is still polite to offer to pay at least once.
Homes Remove your shoes when entering a private house.
Heads Don't pat or touch an adult (or child) on the head.
Feet Avoid pointing your feet at people or sacred objects (eg Buddhas).
2.2 History
Halong translates as 'where the dragon descends into the sea' and legend tells that this mystical seascape was created when a great mountain dragon charged towards the coast, its flailing tail gouging out valleys and crevasses. As the creature plunged into the sea, the area filled with water, leaving only the pinnacles visible. The geological explanation of karst erosion may be more prosaic, but doesn't make this seascape any less poetic.
3.1 Getting Around
Tuan Chau Pier, 13km west of Halong City, is the jumping-off point for tourist and passenger boats to the Halong Bay area, including Cat Ba Island. Boats to Quan Lan Island depart from Hon Gai Pier, across the suspension bridge from Halong City, and boats to Quan Lan and Co To Islands depart from Cai Rong, on Van Don Island.
3.2 Flights & getting there
Flights to Halong Bay
Ready to make it happen? Search for the best deals on flights to Halong Bay now.
Getting There & Away
Most travellers elect to experience Halong Bay on a cruise-tour prearranged in Hanoi, which usually includes transfers to/from the bay.
It's also possible to head to Halong City (Bai Chay) independently and book a boat trip at Tuan Chau Pier.
Alternatively, head directly to Cat Ba Island from Hanoi and arrange a boat trip from there to explore Lan Ha Bay.
4. Top sights in Halong Bay
4.1 Hang Dau Go
This huge cave consists of three chambers reached via 90 steps. Inside, ceilings soar up to 25m high while some rather disco-festive lighting illuminates a wacky array of stalactites. Among the stalactites of the first hall, scores of gnomes appear to be holding a meeting. The cave derives its name from the role it played during the 13th-century battles with the Mongolians when locals stored wooden stakes, used to destroy invading ships, in the third chamber here.
4.2. Hang Trong
Hang Trong has wide-arched entrances on either side and a ceiling clustered with stalactites. It's so named because when the wind blows through its stalactites, the effect resembles the sound of distant drumbeats.
4.3. Hang Sung Sot
The popular Hang Sung Sot has three vast chambers; in the second there's a pink-lit rock phallus unsurprisingly regarded as a fertility symbol. Even less surprisingly, some guides refer to it as the 'Cock Rock'.
Good to Know
Languages spoken
Vietnamese